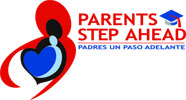 .
Parents Step Ahead & Nissan Celebrate
March as Month of the Family in Irving ISD
On March 2nd, Parents Step Ahead and Nissan joined together to celebrate March as Month of the Family for the third consecutive year. Parents Step Ahead and Nissan kicked-off the month with a day of community service for parents and students in the Irving Independent School District to encourage families to get involved in their schools. Nissan employees in Irving also worked alongside local volunteers to demonstrate the company's commitment to education and community. The event included beautification efforts in Clifton Early Childhood Center, TJ Lee Elementary, Sam Houston Middle School and MacArthur High School.
The day began with a morning rally and breakfast provided by McDonald's. Officials from the city of Irving and school district representatives attended the event and gave a few words of encouragement to the volunteers. "Great things when great organizations like Parents Step Ahead, great corporations like Nissan, great schools like Irving Independent School District, and most importantly great families come together for a great cause," said Dale L. Walker, local representative of Nissan, during the opening ceremony. Students and parents also participated to motivate volunteers before leaving to work at the various schools
The four schools developed plans beautification projects that included a preparing a Butterfly and Vegetable Garden, creating rain sticks for toddlers, renovation of a teacher lounge, organization of a student clothing closet and an entire makeover of a courtyard. More than 350 volunteers participated in the projects and came to support the various schools.
Parents Step Ahead encourages families to celebrate March as Month of the Family by selecting a day each week to spend time together as a family. "A great way to celebrate family values ​​is to help our schools. Nissan has been a major sponsor of Parents Step Ahead and has given us the opportunity to celebrate together the importance of family unity, "said Lupita Colmenero, founder of Parents Step Ahead.
Youtube Link: http://youtu.be/Uyvnv-S-pYA
About Parents Step Ahead
Parents Step Ahead is a 501-C3 nonprofit organization with a mission "to recognize, educate, enable and empower parents to take a proactive role in the educational and personal development of their children." The organization works in partnership with corporations and community organizations to offer a series of programs for parents to demonstrate the importance of parental involvement. Programs are free and include dinner, childcare, and the raffle of prizes and culminate with the raffle of a desktop computer.
About Nissan Americas
In the Americas, Nissan's operations include automotive styling, engineering, consumer and corporate financing, sales and marketing, distribution and manufacturing.  Nissan is dedicated to improving the environment under the Nissan Green Program and has been recognized as an ENERGY STAR® Partner of the Year by the U.S Environmental Protection Agency in 2010, 2011 and 2012. More information on Nissan in North America and the complete lineup of Nissan and Infiniti vehicles can be found online at www.NissanUSA.com and www.InfinitiUSA.com, or visit the Americas media sites NissanNews.com and InfinitiNews.com.
About Nissan
Nissan Motor Co., Ltd., Japan's second-largest automotive company, is headquartered in Yokohama, Japan, and is part of the Renault-Nissan Alliance. Operating with more than 248,000 employees globally, Nissan provided customers with more than 4.8 million vehicles in 2011, generating revenue of 9.4 trillion yen ($118.95 billion U.S.). With a strong commitment to developing exciting and innovative products for all, Nissan delivers a comprehensive range of 64 models under the Nissan and Infiniti brands. A pioneer in zero-emission mobility, Nissan made history with the introduction of the Nissan LEAF, the first affordable, mass-market, pure-electric vehicle and winner of numerous international accolades, including the prestigious 2011-2012 Car of the Year Japan and 2011 World Car of the Year awards. For more information on our products, services and commitment to sustainable mobility, visit our website at http://www.nissan-global.com/EN/.
###