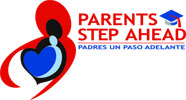 Dallas, TX – February 21, 2015 – Parents Step Ahead (PSA) held its second Parent Conference of 2015 at Forest Lane Academy (FLA) in the Richardson Independent School District. This was the first Parent Conference held at the FLA campus.
Forest Lane Academy, located in Dallas, Texas, is a public school that serves over 600 students, grades PK-6 in the Richardson Independent School District (RISD). Built in the year 2000, FLA is one of 42 elementary schools in the RISD District. Under No Child Left Behind, FLA makes Adequate Yearly Progress (AYP) if it achieves the minimum levels of improvement determined by the state of Texas in terms of student performance and other accountability measures.
This past Saturday, February 21st, three topics were discussed along with an introductory presentation of Parents Step Ahead. Financial Literacy, Stranger Danger and Making Winners out of Readers, were the three presentations that more than 300 parents from FLA enjoyed.
Lupe G. Galdamez, Banking Central Manager for Comerica Bank, spoke on the seminar topic of Financial Literacy. Born in Mexico, Ms. Galdamez has been married for 22 years and has two teenagers. She joined Comerica in 1997 in customer service and is now a manager at a Richardson location on Campbell road.
Over the topic of Stranger Danger, Sergeant Robert Muñoz of the Dallas
Police Department (DPD), spoke on the subject matter. Sgt. Muñoz is a 24 year veteran of the DPD and currently the Latino Community Liaison for DPD and responsible for organizing the UNIDOS program. UNIDOS is a Hispanic community outreach program designed to provide assistance to Spanish speaking residents in the Dallas area. The intent of the program is to act as a resource center for Spanish speaking residents and present information and provide assistance in areas of importance to the Hispanic community. Sgt. Muñoz was also able to provide an in-kind donation of a bike for a winning parent as a door prize provided by the DPD.
Reading Specialists from RISD, Jill Hickey was able to present the Making Winners out of Readers segment of the program. Ms. Hickey is a Cluster Reading Specialist serving grades K-6 in reading and writing and has been with RISD for 11 years. Her presentation included a video of the importance of encouraging their children to begin reading books at an early age.
The Community Resource fair featured nine community organizations in Dallas. Including, BeCovered Texas, New York Life Insurance, Blue Cross Blue Shield, Boy Scouts and Girl Scouts of America, Parkland Community Health, Hope's Door, North Texas Job Corps, Regions Bank, PTA for Forest Lane Academy and the Dallas Police Department/UNIDOS program.
Major contributors to the event were the Ford Motor Company, Manuel Garcia and McDonald's for providing the dinner for the parents in attendance and Pinnacle Technical Resources for providing a brand new computer to the winner of the raffle drawing, Forest Lane parent Rosalỉa Pineda.
The next Parents Step Ahead Parent Conference will be held in Grapevine Independent School District at Timberline Elementary School, Thursday, May 14, 2015.
For more information on the conference, visit www.parentsstepahead.org or call Fernando Labastida at 214-357-2186.
About Parents Step Ahead
Parents Step Ahead is a 501(c)(3) nonprofit organization with a mission "to recognize, educate, and enable and empower parents to take a proactive role in the educational and personal development of their children." The organization works in partnership with corporations and community organizations to offer a series of programs for parents to demonstrate the importance of parental involvement. Programs are free and include dinner and childcare. www.parentsstepahead.org.